Post, Texas
Chamber of Commerce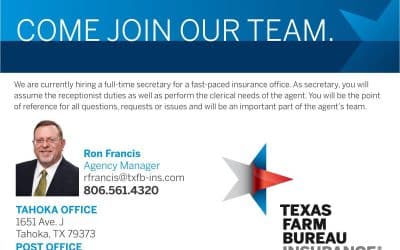 Texas Farm Bureau Insurance Post has been operating since October of 2020. Under the leadership of Ron Frances, they have been seeing to the needs of their members to ensure that members have proper and adequate coverage and protection for the people and things that matter the most to them....
read more


United Supermarkets
123 N. Broadway
Post, TX, 79356
Post, Texas, a thriving West Texas community, is home to approximately 6,000 friendly people as of the 2010 Census and a vast range of recreational opportunities. Post, the county seat of Garza County, was established in 1907 by cereal magnate C.W. Post. It is one of the most beautiful areas in West Texas, nestled in the "caprock" of the Llano Estacado. Post is a city with strong historical values but also rich in cultural activities and tourist attractions.
The traveler who passes through Post today may not notice that it differs from any other small town of the high plains of West Texas. However, it does! With its rich history , historical landmarks, and attractions, Post is today a well known place to visit.
Post, Texas, founded in 1907 by cereal magnate Charles William Post, was truly a "dream city". His vision drew him to one of the most beautiful locations in West Texas – the area where the headwaters of both arms of the Brazos River join to outline the scenic caprock escarpment of the Llano Estacado. Here C.W. Post carved a county of our nature's provisions which provided a home for cattlemen, plentiful oil and bountiful cotton. Post today is the county seat of Garza County. Post, Texas is nestled three miles below the Cap Rock, 40 miles Southeast of Lubbock, on Highway 84. Thus, Post became known as the gateway to the plains of West Texas. Most of the downtown buildings still standing in Post today were constructed between 1907 and 1937. They include the C.W. Post Double U Building, and the old First National Bank Building. Four of the historic buildings have been restored in recent years.
The friendly people of Post invite you to explore the opportunities offered to visitors who want to connect our city's grand past with its dramatic future. Learn more about the hotels, shopping, and attractions that await you in Post, Texas!