Post, Texas
Chamber of Commerce
The Garlyn Coop Gin was formed in 2014 when the Grassland Coop Gin (1944) and the Close City Coop Gin (1943) merged and has been a member of the Post Area Chamber of Commerce since 2016. The Garlyn Coop Gin is located on FM 1313 in Grassland half way between Post and Tahoka. The Gin is under the...
Businesses featured in the monthly business profile are current PACC members. Join today for a chance to be featured here.

Post, Texas, a thriving West Texas community, is home to approximately 6,000 friendly people as of the 2010 Census and a vast range of recreational opportunities. Post, the county seat of Garza County, was established in 1907 by cereal magnate C.W. Post. It is one of the most beautiful areas in West Texas, nestled in the "caprock" of the Llano Estacado. Post is a city with strong historical values but also rich in cultural activities and tourist attractions.
The traveler who passes through Post today may not notice that it differs from any other small town of the high plains of West Texas. However, it does! With its rich history , historical landmarks, and attractions, Post is today a well known place to visit.
Post, Texas, founded in 1907 by cereal magnate Charles William Post, was truly a "dream city". His vision drew him to one of the most beautiful locations in West Texas – the area where the headwaters of both arms of the Brazos River join to outline the scenic caprock escarpment of the Llano Estacado. Here C.W. Post carved a county of our nature's provisions which provided a home for cattlemen, plentiful oil and bountiful cotton. Post today is the county seat of Garza County. Post, Texas is nestled three miles below the Cap Rock, 40 miles Southeast of Lubbock, on Highway 84. Thus, Post became known as the gateway to the plains of West Texas. Most of the downtown buildings still standing in Post today were constructed between 1907 and 1937. They include the C.W. Post Double U Building, and the old First National Bank Building. Four of the historic buildings have been restored in recent years.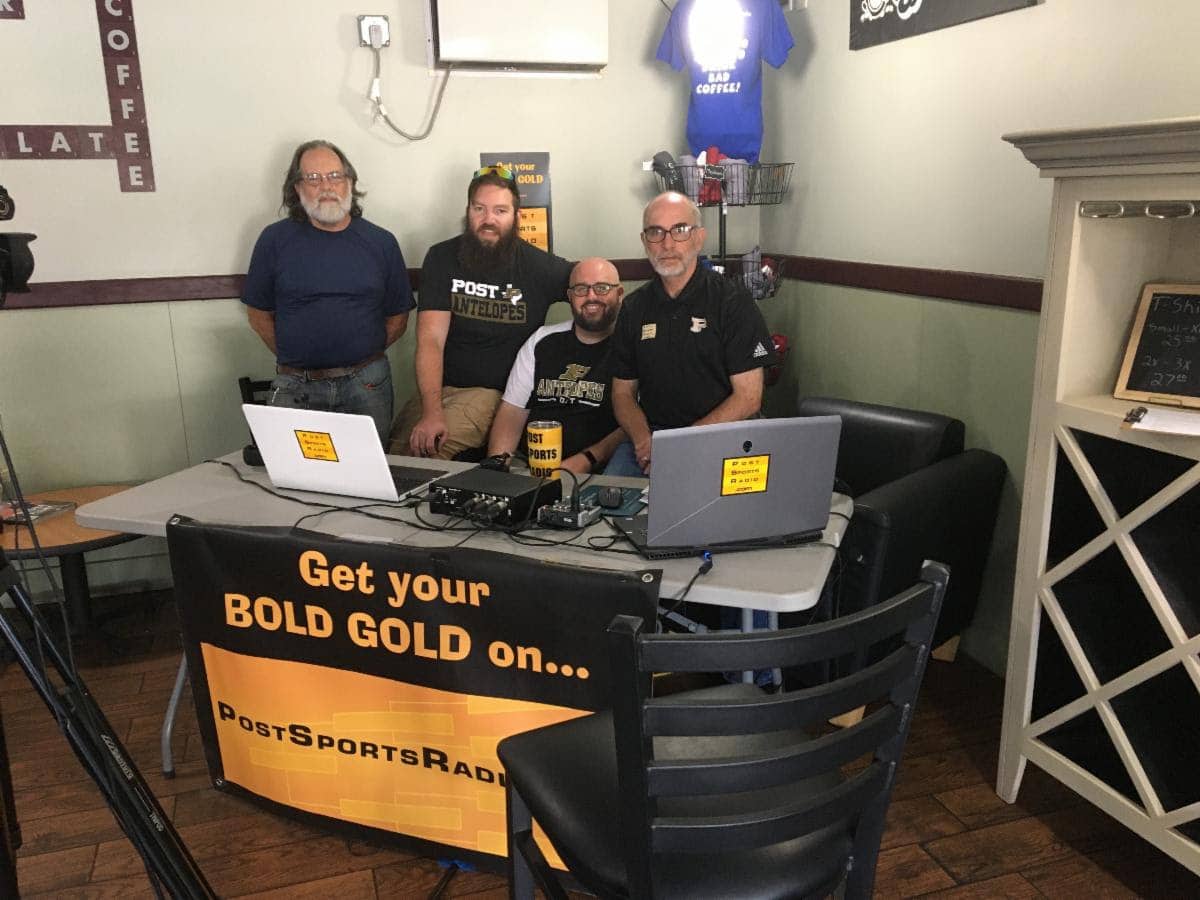 PostSportsRadio.com
Radio Station
Post Sports Radio is owned and operated by Jim Plummer. Post Sports Radio exists to promote the athletic activities and other events at Post High School through audio and video broadcasting. Each day, Jim works to accomplish a list of "to-do's" to keep the broadcasting running and growing. Typically, the day will consist of selling advertising, producing advertising, maintaining the website, scheduling the appropriate personnel for games, communicating with coaches and administrators, and anything else that will pop up. For Jim, broadcasting has been a long time love. He became familiar with broadcasting while pursuing his degree at Texas Tech University. After many years owning and managing Hotel Garza, Jim was able to return his focus to the hobby he loves so much, 16 years ago. Since retiring from his role as the county and district clerk, Jim has been able to increase his focus and time pouring into Post Sports Radio. Although providing access to the bold gold games, and highlighting athletes and area businesses through advertisement is the day to day goal, Post Sport Radio prides itself in being able to offer scholarships to graduating athletes each year. This is the real drive behind the station, to support our Bold Gold athletes.
Jim looks forward to increasing the coverage provided by broadcasting to include even more games and events, and hopefully to encompass other Post Bold Gold Antelope extracurricular activities. Additionally, Jim hopes to be able to increase the amount of scholarships made available to student athletes in the years to come.
More information about Post sports radio can be found at postsportsradio.com. Jim can be reached by email at postsportsradio@gmail.com or by calling 806-781-1911. Jim would like everyone to know that he believes it is by the grace of God and through the support of the numerous sponsors and wonderful fans that Post Sports Radio is able to exist and succeed. He would like to thank everyone involved and welcome anyone considering advertising or supporting Post Sports Radio.
The friendly people of Post invite you to explore the opportunities offered to visitors who want to connect our city's grand past with its dramatic future. Learn more about the hotels, shopping, and attractions that await you in Post, Texas!